23rd Dec: aww... it's the last day of our paris trip...
jardin du luxembourg
the grand bassin
palais du luxembourg, built for Marie de Medicis, Louis XIII's mother. was a palace, was a prison, now.. for the senate.
hoho they've got a

weighing scale

in the park?! to monitor how much weight they've lost after laps around the grand bassin.
oh so this is wat they do bfor weighing themselves on the

cute

weighing scale.
wat a serene picture... winter morning n trees w/o foliage...beautiful but somber.
hope to come again in the summer where flowers bloom everywhere
Pantheon
of paris, not rome
was an abbey, is a burial place for sum french heroes
seriously v stil can't have enuf of eiffel tower. this time viewing from
trocadero
.
hey this is no photoshop.. it's very foggy in paris that day. well.. there's more to the story than this.
anyway we've got dayview, niteview n foggyview of eiffel tower in this trip. how abt that keke...
v marched from
trocadero
to
below eiffy
to
champs de mars
back to the
peace monument
v went on the 2nd day.. it's a long stretch.. all for the sake of eiffel tower from
dif distance n dif angle
.
sot geh
!
from trocadero
getting nearer
below.. looking towards palais de chaillot
on champ de mars.. yo lean again!
back to peace monument.. haha!
THE inverted pyramid
act v saw this on Day 2 oredi, in a shoping complex a floor below musee du louvre.
"look dear, there's the inverted pyramid! tom hanks claimed that mary magdelene lies underneath it haha."
that fella juz shrugged me off. "ga ge la.. dou mm hai zan geh!"
puzzled! huh so this is juz a replica? r u sure? this looks so real!
well he's so confident abt it so i stupidly BLIF him that THE inverted pyramid is sumwhere else.
manatau that's actually THE inverted pyramid. shit la u! so v went back on Day 4 juz to take pics of it muahaha.
since v gotta board a flight back to glasgow that nite, can't reli make it anywhere far so we had a stroll at
rue de moufferard
, the street where our hostel is situated.
after days of
baguettes, paninis n crepes
(ah no complaints... i seriously luv crepes, they r soo yummy!), time for sum french cuisine.
my starter.. shrimp wif avocado. it'll b a luvly combination if served wif fresh big prawns caught from kuala selangor.. aiks! this is gud enuf.
escargots!
then i have cod for main course. erm taste like frozen cod je! mom's steam cod better. then dear had duck confit.. not bad but bit salty.
dessert.
tarte pommes
.. ok it's apple pie.
eggy-licious!
further down the st... boy there r many lil surprises here n there.
vin
omg fresh seafood everywhere!
fromagerie... cheese!
boucherie... omg those hanging there were HARES!
then off v went to the airport,
au revoir paree
!
+++++++++++++++++++++++++++++++++++++++++++++++++
rmb the foggy pic juz now? unfortunately, ALL
flights
that nite were cancelled due to the stupid FOG. like that's not causing
chaos n panic
enuf for the passengers, they suddenly announced that ALL flight r
FULLY booked
for the NX 1 WEEK n there's a free bus to shuttle passengers back to paris. wth!!!
u c it's
xmas eve
the nx day. chaos n panic were everywhere in the airport! many ppl left.
get a flight of other airline or train or v r frigging stranded in this small airport!
enquired for other airlines n the cheapest v can get was a whopping 300 euros!!! no way!
this was the 1st time i encountered such a not-so-ordinary incident. as the usual me w/o sense of urgency, i find this experience kinda
syok
haha (
siao
!), the tot that i'm gonna b stranded here for 1 week nvr occur in my mind at all. hang around in the airport aimlessly, don quite know wat to do.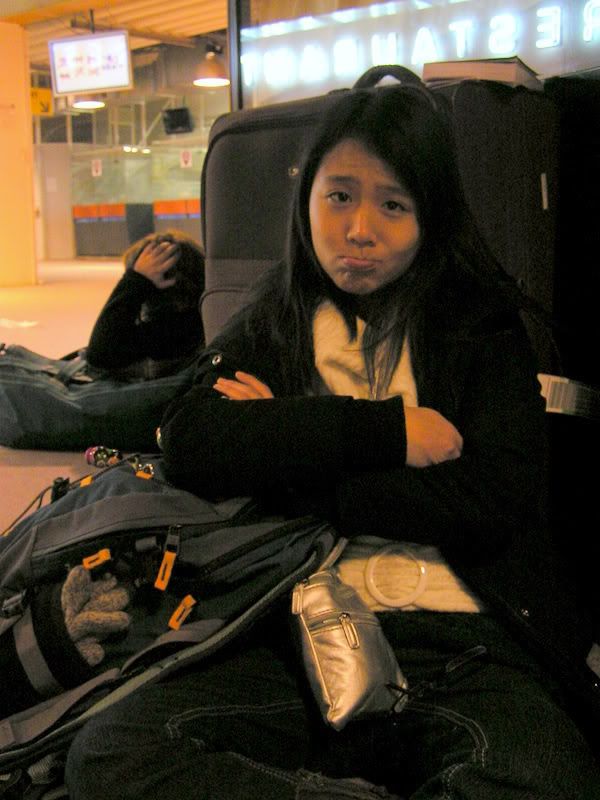 when the crowd had pretty much
dispersed
, went to try my luck n request them to put us on waiting list for the nx flight (am a fan of amazing race keke). SURPRISINGly...
they offer us us a flight to DUBLIN then transit back to GLASGOW the nx day,
free of charge
! huh?! can't reli blif my ears... so there's a way OUT, totally FREE. v quickly said YES to the offer.. phew!
tin dou gong sai=)
had to put a nite in the airport. i saw ppl setting up foldable BEDS.. wa sai mm sai gam soh fu ah.. then ony i realised that the airport staffs r giving out the beds so i quickly ran to the other side of the airport to grab 1 for myself.

too bad, the beds were taken n wat's left were blankets.. jiu sat!
v lay the blanket on the floor. the ahpek bside us was kind enuf to offer another blanket for us to keep us warm. aww so sweet=) then the airport was closed, locked n lights off. beds n blankets.. so this is paris afterall, all equipped for a strike haha. seriously, nvr so sound asleep in an airport bfor.




i dozed off not long after that. then in the middle of the nite, i was half awakened by sounds. sheez few airport staffs standing rite in front of us were saying sth while looking at us. then they turn to the bed bside us. then move our blanket or watever...
was in a haze n cudn't care wat's going on as long as they were not eyeing for our belongings, juz continue sleeping like a PIG zzzzzzzzzzzzz....
nx day, i woke up n found myself covered in a THICK GREEN blanket instead of the thin GREY blanket. huh?!
then i vaguely recall wat happened in the middle of the nite. ah~ha, the airport staffs muz have seen 2 poor souls shivering (oh did i?). so they exchange the THICK GREEN blanket of the guy bside us on the nice warm bed wif the thin GREY blanket that v have. so that's how i got the WARM green blanket. awww.. so thoughtful ppl=) thanks!

boarded a flight to dublin.. mou duen duen step on irish soil. alas, back to glasgow. stil, a nice ending to our memorable paris trip.

=happyHalle=